Biography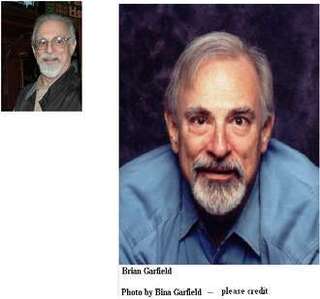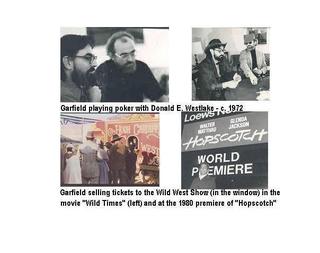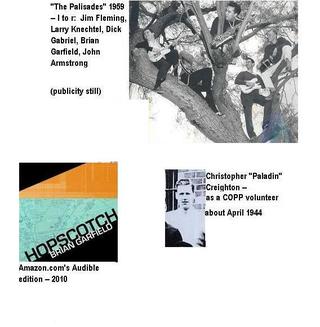 Brian Garfield and his wife Bina divide their time between homes in Pasadena (California) and Santa Fe.

He is happy to answer questions from readers - e-mail briagar@aol.com.

The writer was born in 1939. His first published book was written when he was 18. He grew up in Arizona, earned a Master's Degree from the University of Arizona, and has lived in various parts of Europe and America. He has published about seventy books, several of them nominated for (or winners of) awards, and numerous short pieces. He is best known for his novels of suspense and the movies derived from them, including "Hopscotch", "Death Wish", "Relentless", "Necessity" and "Death Sentence;" and the original movie "The Stepfather".

More than 20 million copies of his books have been published worldwide. He is an Army veteran and a past-President of the Western Writers of America and of the Mystery Writers of America (the only writer to have served in both offices).

Nineteen films are based on his writings, and more are in the hopper for 2011 and beyond -- "The Fabulist", based on Garfield's recent biography "The Meinertzhagen Mystery" (Garfield is one of its producers); "Death Wish", an MGM remake written and directed by Sylvester Stallone; an updated remake of "Hopscotch" (Garfield is one of the executive producers); an as yet untitled Baldwin Entertainment Group film based on Garfield's novel "Manifest Destiny"; others as well.

The Hyde Park / Baldwin Entertainment Group production "Death Sentence", with Kevin Bacon, Kelly Preston, John Goodman and Aisha Tyler, based on Garfield's novel and directed by James Wan, was released by 20th Century Fox in September 2007. It is available now on DVD, as are DVDs of most of his films including the recent (fall 2009) releases of the (earlier) original "The Stepfather" 1987 and "Stepfather II".

In the 1950s Brian Garfield toured as an itinerant musician with "The Palisades", a jazz-rock-blues band that had a top-40 hit with "I Can't Quit" (Calico Records) - they appeared on "American Bandstand" and other programs.

Having performed as jazz, blues, and rock-&-roll artist, and having written and/or produced Westerns, mysteries, hard-boiled crime novels, spy stories, and a musical comedy movie ("Legs", about the Rockettes, co-produced by Radio City Music Hall), he claims to have worked in nearly all the original Anglo-American popular arts. Inevitably his publishers' frequent complaint has been that he and his work cannot be type-cast. (His excuse: "If the writer ever gets bored, Heaven help the reader.")

He is completing a new thriller for 2011 publication. His most recent new book was THE MEINERTZHAGEN MYSTERY (Potomac Books, 2007; paperback February 2008) and it was yet another departure -- a nonfiction biography of a British hero of science and warfare and espionage whose exploits, Brian discovered and here proved, were largely hoaxes, even though Richard Meinertzhagen fooled many high-ranking friends like Winston Churchill, T. E. Lawrence and Ian Fleming.

A film about the young Theodore Roosevelt's real adventures as a rancher in Dakota Territory, based on Garfield's historical novel MANIFEST DESTINY, is in pre-production under the banner of the Baldwin Entertainment Group. Its screenplay is by Emmy Award winner (for "John Adams") Kirk Ellis.

Brian won the Edgar Award for "Hopscotch" (best novel; basis for the awards-nominated movie "Hopscotch" with Walter Matthau, Glenda Jackson and Sam Waterston, directed by Ronald Neame; the film was written and co-produced by Garfield) and has been nominated for several other prizes.

His seminal novel "Death Wish" defined a crime-writers' genre and became the basis for a series of five Charles Bronson action-movies. A remake is planned at MGM by Sylvester Stallone.

Others among his more than sixty books and films are "Wild Times" (finalist for the American Book Award; basis for the television mini-series with Sam Elliott, Ben Johnson and Dennis Hopper), "Recoil", "Relentless" (filmed in 1977 with the late Will Sampson), "Kolchak's Gold," "Necessity" (filmed in 1983), "Line of Succession," "Fear in a Handful of Dust" (filmed as "Fleshburn"), "The Last Hard Men" (filmed in 1976 with James Coburn, Charlton Heston and Barbara Hershey), and the cult-favorite movie original "The Stepfather" (1987, with its stunning performance by Terry O'Quinn).

Among his nonfiction books are "Western Films: A Complete Guide," the recent "The Meinertzhagen Mystery", and the classic nonfiction history book "The Thousand-Mile War: World War II in Alaska and the Aleutians," the first full-scale history of the only World War II campaign fought on North American soil; the book was a finalist for the Pulitzer Prize in History, is used by the U. S. Navy as a text on North Pacific warfare, and for years has been the bestselling title published by the University of Alaska Press.

To see online interviews with Brian, go to Internet Links
http://noveljourney.blogspot.com/2007/01/author-interview-brian-garfield.html
;
http://www.popmatters.com/pm/features/article/55623/historian-interview-with-brian-garfield/
;
http://wicn.org/audio/inquiry-brian-garfield-the-meinertzhagen-mysteryl-the-life-and-legend-of-a-colossal-fraud

And to ask the writer a question, write to him at briagar@aol.com .